About Kagaki School
Kagaki School is a private, mixed school, with both day and boarding services. We are located in Baraka estate, Kiamunyi location in Rongai Constituency, Nakuru.
The School was founded in the year 2005, with the name KAGAKI being chosen by the directors for its meaning, small in size but big in stature. It began as a kindergarten with only 4 children, each donning a sky-blue apron that was then, the uniform of the school. The school then, by the grace of the Almighty God, grew to class four by the end of that year, after which it kept growing class by class until the year 2009 when we had our first candidate class.
Since the year 2009, Kagaki School has consistently and favourably competed, in the county and country as a whole, registering highly applaudable results each year. This is attributed to the dedication of all the staff, in actualising the mission and vision of the school, the effort put in by the board or directors and the grace and providence of God. Our parents and students also play a major role in the institution, with all of us making a wonderful family, the Kagaki family.
Yes we can, and Yes we will, while in God we trust is the slogan of the school, that's proudly carried by every member of the institution, believing that it is possible for us to attain our mission and vision, for we trust in God. Effectiveness for productivity is our motto, which fuels the efforts of each individual in the school to be effective while performing their duties and/or responsibilities.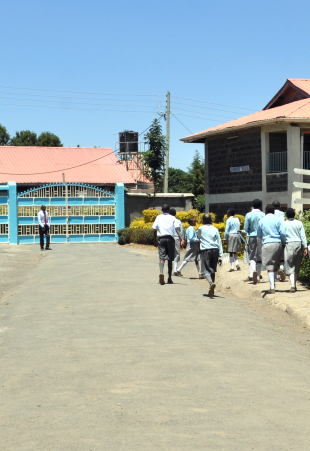 Our Mission
To provide distinguished quality pre-primary and primary education, and to develop the child effectively, to face the challenges of life.

Our Vision
To be recognized leader in all spheres of the learning process.

Our Motto
Effectiveness for Productivity
while in God we trust
Welcome Message From the Leadership
Dr. Shadrack Kinyua
Managing Director
Welcome to Kagaki school. It has taken quite a long time to get to this level of success. Having started the school with just a handful of students, we now are humbled at the numbers who have agreed to identify with us. We are currently still enrolling more students, and invite you to come and sail along with us. The numbers keep adding up as we do our best to provide our students with the optimum level of education they can get. Come and visit us today and I guarantee you will be impressed
Prof. Miriam Kinyua
Consultant Director
It is my great honour to welcome you to our esteemed school. We are an institution that is well equipped to deal with the challenges that face our education sector today, guiding our children through formal education that will in turn make them to be persons of value in the coming future. Make it a point to visit us, and you will be amazed at what we have to offer.